STABLE. ADJUSTABLE. ADAPTABLE. COLLAPSIBLE.
Adventure Canopies kayak bimini provides shade from the sun without restricting your ability to naturally operate the watercraft. The bimini design allows for four points of contact for stability while also incorporating pressure release connectors in the event of a spill. The multiple sizes and dual mount options compatible with kayak track systems allows for universal mounting on various lengths of single person kayaks complimenting its universal design.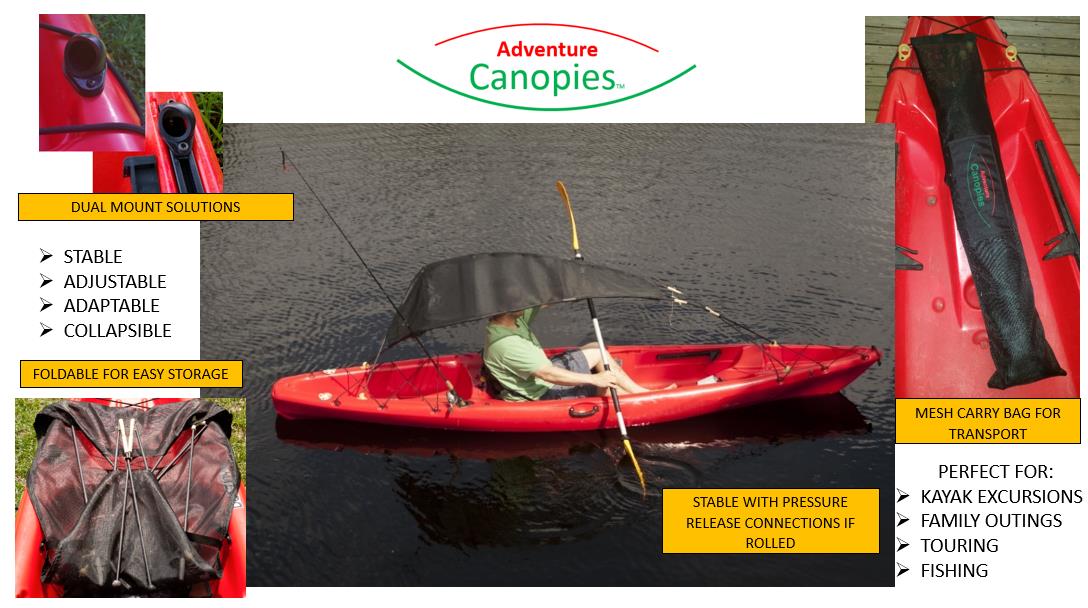 ENGINEERED DESIGN
Stability – Achieved with the patented criss cross frame with four points of contact. The design takes advantage of the tension achieved by the bend of the fiberglass frame to form a very stable canopy over the paddler. The stability of the frame offers additional mount points overhead for you to accessorize your kayak with a camera or even waterproof Bluetooth speakers.

Adjustability – The sliding cross bar built into the frame coupled with adjustment points built into the cover allows the paddler to make slight adjustments to the width of the canopy to compensate for individual differences in paddle strokes. Height adjustments are simply made by adding extension poles to the back of the bimini allowing for unlimited adjustments.

Adaptable – The four attachment hubs unique design allows for easy mounting on a variety of kayaks. Adventure Canopies is also working on a solution to add track nuts to the mounting hubs allowing users the capability of incorporating their Bimini into an existing or aftermarket track system.

Collapsible– The design incorporates shock cord that runs through the frame keeping all components in-line adding simplicity to assembly and breakdown. A simple release of the cross bar and the other breakdown points makes the canopy compact to store.


PERSONALIZE YOUR KAYAK BIMINI WITH COLOR OPTIONS!
The recreational mesh used in our design is 100% woven vinyl-coated polyester with a long and durable life expectancy. The mesh is rugged and designed to handle the harsh conditions thrown at it by Mother Nature keeping you covered for years to come.
Black – Standard with every canopy
Orange – Be safe and highly visible out on the water
Yellow/Forest Green – Additional options to compliment you and your kayak
Other colors available depending on stock